The final volume in ISKCON pioneer Shyamasundar Das's epic Srila Prabhupada trilogy "Chasing Rhinos with the Swami" is available now for pre-order. Nearly three years in the making, the book runs to 460 pages, with 290 photos, many never seen before. It's a thrilling firsthand account of the ISKCON Founder-Acharya's unbending energy, uncanny intelligence, sidesplitting humor and adventurous spirit as he travels around the world.
Shyamasundar Das traveled with Srila Prabhupada as his secretary for roughly two years, but served him closely for most of seven. The title of his "Chasing Rhinos" series comes from a metaphor Prabhupada used – similar to "shooting for the moon" – to describe doing ambitious, seemingly impossible things for Krishna.
Volume 1 of the trilogy, which came out in 2016, followed Shyamasundar's experiences from 1966 to 1970 as he assisted Prabhupada in establishing Krishna consciousness in San Francisco at the peak of the Hippie Revolution, as well as starting ISKCON in the UK while meeting the Beatles and putting out a hit record. Meanwhile Volume 2 covered Prabhupada's travels in India, Russia, and around the world from 1970 to 1974.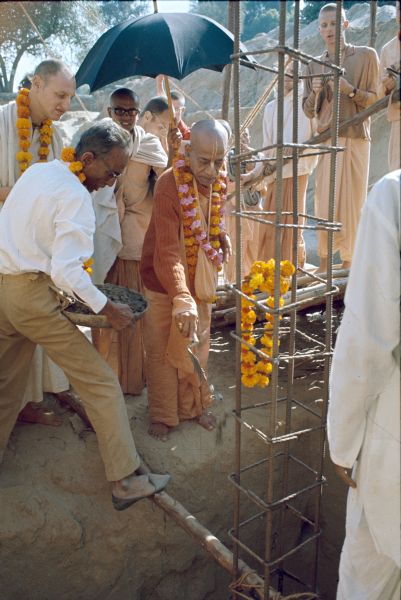 Srila Prabhupada pours cement at the new Krishna-Balaram temple in Vrindaban, October 1972.
The brand new Volume 3, dubbed "the crown jewel" of the series, jumps back to 1972, as Shyamasundar accompanies Srila Prabhupada as his secretary to Mexico, to visit the new temple in Mexico City, as well as to hold programs in Cuernavaca and Acapulco. They then travel around the United States, where Prabhupada gives his Bhagavat Dharma discourses on Govindaji Hill in New Vrindaban to over 500 people, and visits Portland, San Diego, New York and Dallas.
The book also covers travels around Europe in Paris, Amsterdam, and Scotland. In India, Prabhupada discusses the Nectar of Devotion with 100 devotees from around the world for a month, in the Vrindavan courtyard of the work's author Rupa Goswami. Later Shyamasundar analyzes Srila Prabhupada's "incredible legal mind" as he battles in the courts for the ISKCON Juhu temple land in Mumbai.
In England, Prabhupada attends two London Rathayatras, in 1972 and 1973.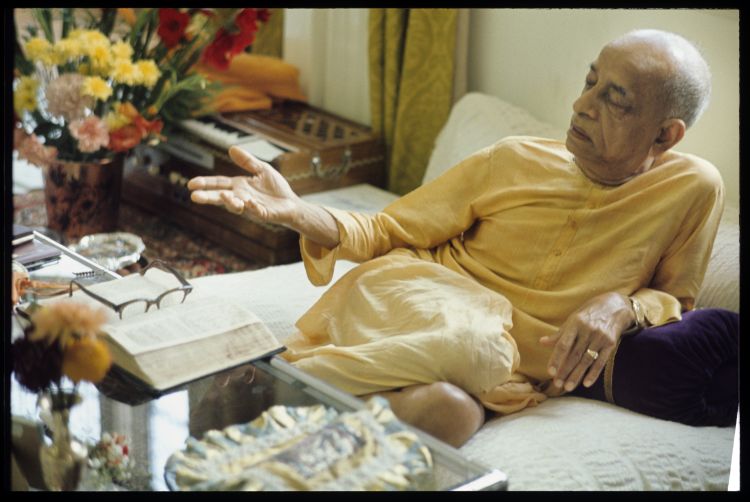 "For the '73 Rathayatra, he flew in from India," says Shyamasundar. "He had been very ill, so we were expecting that when he came to London, he would want to sit on the cart during the long procession through downtown London. But in fact, from the moment he arrived, he started dancing. And he walked and danced the entire distance to Trafalgar Square. It was sublimely transcendental to see Prabhupada so energetic."
Chasing Rhinos Volume 3 culminates at Bhaktivedanta Manor, the lavish country estate gifted to Srila Prabhupada by George Harrison near London. For three months, Srila Prabhupada meets and converses with more than fifty of Britain's most interesting and important people – lords and ladies, film and rock stars, scientists, philosophers, politicians, theologians and priests, even the village policeman.
"We recorded over fifty-five conversations he had with these people," Shyamasundar says. "Many of these conversations were lost, or the people in them weren't identified properly. So I've gone through all of them, pulled the gist from each, and put them in a timeline, so that readers can understand Prabhupada's amazing breadth of mind, how he could discuss the deepest topics with these people, and leave everyone perfectly satisfied at the end."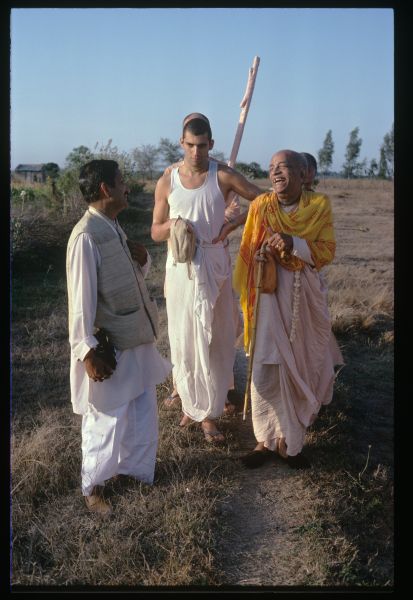 The book's epilogue is also a treat. "It's only thirty pages, but it took me almost two months to write," Shyamasundar says. "Because it sums up everything that I learned and saw from Prabhupada."
Shyamasundar hopes that readers imbibe Srila Prabhupada's fun-loving, adventurous spirit and sense of humor. "He also had such trust, such faith that Krishna would handle everything," Shyamasundar recalls. "He was such a pure via media to Krishna, that whenever you see Prabhupada in this book, you know that Krishna is guiding everything he's doing."
The first two volumes of Chasing Rhinos with the Swami have become ISKCON classics – Shyamasundar receives emails almost daily from devotees around the world saying that the series has changed their lives and brought them closer to Srila Prabhupada.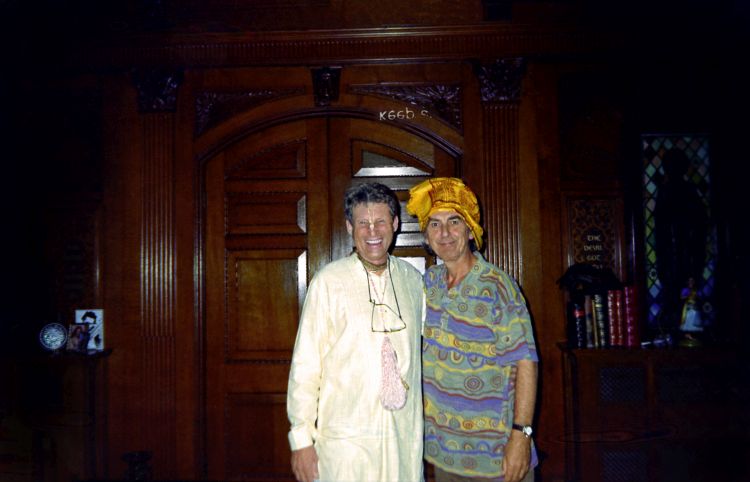 Now, after spending ten years of his life on the trilogy, Shyamasundar feels Volume 3 will be his last. But he will be forever grateful for the experience.

"In the epilogue, I describe how writing the series was like living with Srila Prabhupada, and how my pen just moved," he says. "This book is not something I consciously fabricated. Krishna spoke somehow through my hands. And to be immersed in that kind of ecstasy was unforgettable – the best experience of my life."

 

Order Chasing Rhinos with the Swami Volume 3 here: https://chasingrhinos.com/

[ ac-bhaktivedanta-swami-prabhupada ] [ book ] [ chasing-rhinos ] [ shyamasundara-das ] [ srila-prabhupada ]

<!-comments-button-->