The Bhadra Campaign is a snowball that just keeps gathering size and momentum.
Also known as "Go to Goloka," the campaign was launched in 2017 by the BBT Marketing, Communications, and Innovations team headed by Vaisesika Das. It's inspired by the Srimad-Bhagavatam's statement that "If on the full moon day of the month of Bhadra one places Srimad-Bhagavatam on a golden throne and gives it as a gift, he will attain the supreme transcendental destination."
It's also driven by Srila Prabhupada's instruction in a 1977 letter to disciples, "I want that every respectable person has a full set of Bhagavatam and Caitanya Caritamrta in his home."
United internationally with leader support to achieve this common goal, devotees leaped from distributing 7,007 Srimad-Bhagavatam sets in 2018 to 24,195 in 2020.
This year, the campaign, which ran from Gaura Purnima (March 28th) to Bhadra Purnima (September 20th) set a goal to distribute 25,000 sets. However, devotees soared far past it, with 262 communities participating to distribute an incredible 35,432 Bhagavatam sets.
According to Vaisesika Das, the campaign's goal-driven initiatives inspire devotees to participate. As soon as they make a pledge to distribute a certain amount of books, he explains, "It ushers in spiritual energy that allows everything to expand by Lord Chaitanya's grace."
Personal, heart-to-heart conversations with devotees about the importance of book distribution, and about how anything is possible by Lord Chaitanya's mercy, also inspire.
"In one of our weekly global meetings, Mahatma Prabhu said, 'It's a lot of fun to do the impossible,' Vaisesika recalls. "One of our mantras is that 'Birds fly in the sky as high as they can, but the sky is unlimited.' There is unlimited opportunity to serve, and the only comparison we have is with our own self. Our motto is to do better than ourselves, and everyone's effort, no matter how big or small, has a contribution to the global team."
Leading up to Bhadra Purnima, there were regular monthly Zoom meetings, with executive leaders of the Hare Krishna movement sharing inspirational messages, and global team leaders reporting with updates from their regions. During the last month of the campaign, the meetings ramped up to weekly.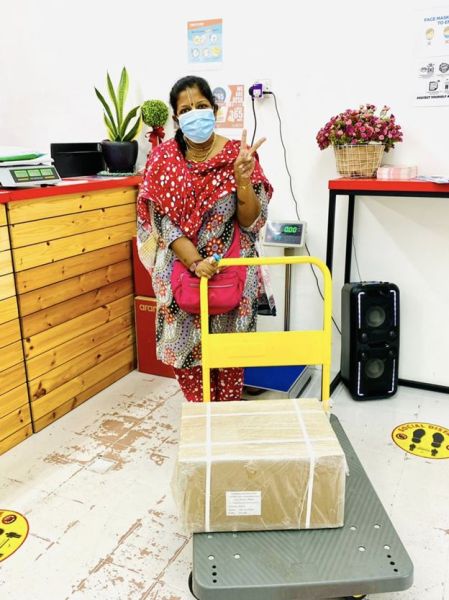 There were also regional meetings to help several communities start the Bhadra Program in their regions, such as Germany, Latin America, and Russia.

This year, Team India doubled their participation through the work of the ICC; Pakistan joined the Bhadra Campaign for the first time; and several new teams, including Fiji, joined throughout Europe, Oceania, and Southeast Asia.

Branded merchandise for the campaign was sent to various centers around the world, to help unite devotees and instill global cooperation, along with the regular meetings.

A variety of book distribution techniques were used. Where pandemic restrictions had eased, devotees were able to set up tables at community events or go door-to-door; in other locations where strict restrictions remained, they distributed via Zoom calling parties. One-on-one training sessions on how to distribute the Bhagavatam over the phone were also conducted.

In India, "Graam Vidya Daan" was formally launched, in collaboration with Govardhan Eco Village and Sri Surabhi campaign, to place Srimad-Bhagavatam sets in villages. The program, under the leadership of Bhakti Raghava Swami, helps preserve the Vedic culture in villages. BBT Trustee Bhima Das also placed several Bhagavatam sets in villages in India, while Bhakti Purusottama Swami had great success placing sets in tribal communities.

"Shraadh Dana" was also launched, to encourage people to sponsor Srimad Bhagavatam in the memory of their loved ones.

In France, under Janananda Goswami's leadership, devotees pre-sold 201 Bhagavatam sets. Copies of the French Bhagavatam, which has been out of print for years and is now back in print, will be delivered once published.

In Connecticut, USA, devotees placed Srimad Bhagavatam sets in 31 libraries.

To help in all these efforts, resources and best practices were shared with devotees all over the world. These included an interactive online book of highlights and strategies from Go to Goloka 2020; as well as a resource pack on sharing Bhagavatam sets with newcomers, created by team members in New Zealand. There was also a live Bhadra tracker for teams to enter their pledges and current progress towards the goal; an interactive WhatsApp app to facilitate receiving pledges easily in different languages; and global maps showing pledges around the world.

The campaign culminated in a two-day celebration, with a global broadcast featuring a yajna at the holy land of Naimisaranya where the Srimad Bhagavatam was spoken, guest speakers, performances, and final result offerings. The names of all participants were offered in the yajna and were scrolled throughout the broadcasts.

As well as distributing Srila Prabhupada's books, devotees created a number of follow-up programs to help readers study them. These include the Bhakti Community in North America, Latin America, and Australia; Bhagavatam reading groups in Toronto; and Bhaktivedanta Manor's School of Bhakti in the UK. There's also New Goloka, North Carolina's daily Zoom Bhagavatam reading call; Columbus, Ohio's reading club which 60 to 70% of Bhagavatam recipients join on a regular basis; and Trinidad's twice-daily conference call, which sees Rajarsi Das systematically teach Srimad-Bhagavatam, Bhagavad-gita As It Is and other books.

Overall, the Bhadra Campaign is giving devotees meaningful service and association, fulfilling their desire for making a difference in the world, and uniting and uplifting individual devotees and whole communities. It's also delivering some good old spiritual excitement.

"What an adventure!" says Bhava Sandhi Dasi from New Zealand. "Every single set distributed was a step towards the goal, and every set distributed now has a home with jivas to guide."

According to Vaisesika Das, the Bhadra campaign is also helping to connect devotees to Srila Prabhupada's legacy of following his Guru Maharaja's order to distribute Srimad-Bhagavatam.

"Prabhupada talked about how it would be the implement through which he would change the hearts of people throughout the world and re-spiritualize the planet," Vaisesika says.

He adds: "I envision that in five years, we'll be able to breach 100,000 Bhagavatam sets."

[ bhadra campaign ] [ book-distribution ] [ srimad-bhagavatam ] [ vaisesika ]

<!-comments-button-->