Books Are the Basis Week
Mark your calendars. Books Are the Basis festival is being celebrated on September 22nd-28th, 2021, immediately after Bhadra Purnima on September 21st, 2021.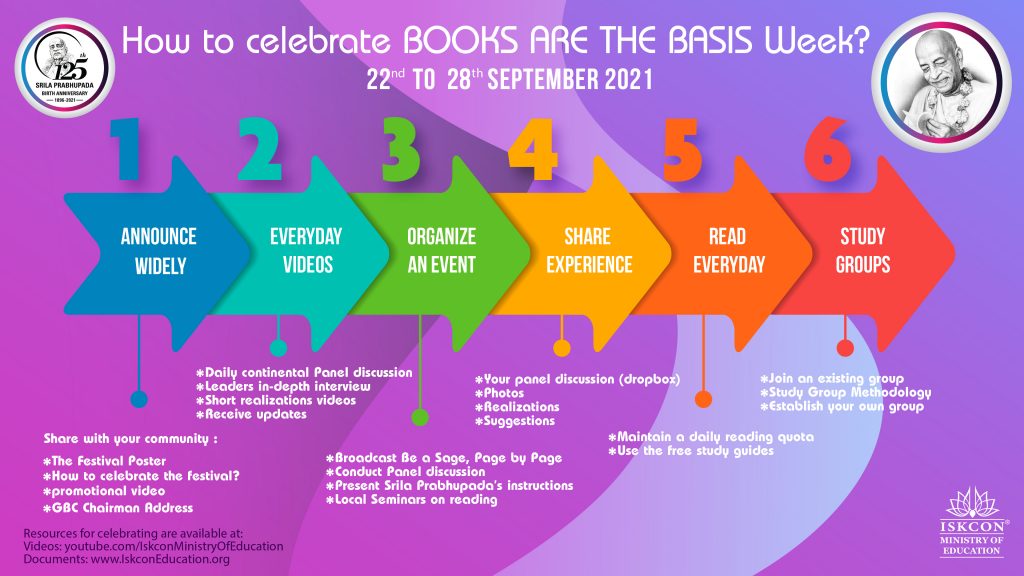 Invocation
Let us invoke auspiciousness by hearing from our beloved Srila Prabhupada:
"I am laboring so hard for you, but you don't take advantage."
Description
Srila Prabhupada Books are the most widely read Spiritual Books in the World.
Significantly increase the regular readership of Srila Prabhupada books amongst devotees.
This year, for every day of the festival, we will share a panel discussion with leaders from all over the world. They will discuss how to increase the reading of Srila Prabhupada books, and in return invite all of you to conduct your own panel discussions and share with us.
Video Content
Promotional Video
p>
64 IN-DEPTH INTERVIEWS WITH ISKCON LEADERS
Since this project's start in September of 2020, we have published in-depth interviews with a leader in ISKCON, every week, currently  64 interviews..In each of the videos, the leaders offer insight into how Srila Prabhupada's books changed their life, the benefits of reading to one's spiritual life, the dangers if we do not read, and insightful tips on how to make daily reading a reality.
h1>
Stay Connected
YouTube: Ministry of Education 
Telegram: https://t.me/joinchat/jjbSWPx6JloxYjI1
Whatsapp: https://chat.whatsapp.com/C7n30m55neW4q3H5UMH1Q8

[ books ] [ books-are-the-basis ] [ education ] [ ministry-of-education ]

<!-comments-button-->