The ISKCON Kolkata temple has rebuilt damaged areas after an April 26th fire which burned the Deities' dress room with all 300 outfits in it. Jewelry, furniture, doors, windows, and the air-conditioning system were completely destroyed, while there was also some burn damage to the paint on the wall of the adjoining altar room.
The presiding Deities of Sri Sri Radha Govindaji, Sriman Mahaprabhu, and Sri Sri Jagannath Baladev Subhadradevi were unharmed, and were moved to Srila Prabhupada's room as a precaution as soon as the fire was discovered. The fire was put out by local fire brigade and police within about 25 minutes.
According to temple president Dayaram Das, the fire brigade forensic department later found the cause of the fire to be a short circuit in the air-conditioning system.
Since then, following guidelines given by the fire brigade, the 400-square-foot deity dress room has been completely rebuilt without any combustible or wooden materials. It now has a tin roof, iron beams, and steel drawers and almiras for the Deities' dresses and jewelry.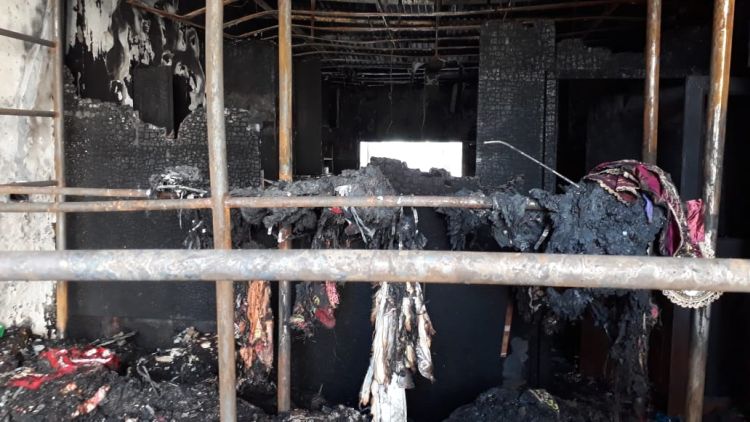 The deity room was also repainted, and about 40 new deity dresses have been made so far. These dresses are now kept in three separate locations. Seven days' worth of dresses are kept in the rebuilt original deity dress room. About 25 dresses are kept in a former book storage room, which has been converted into a second deity dress room with iron beams and plates, and with no air-conditioner. Finally, several particularly valuable, expensive dresses, used only two to three times a year, are kept in the homes of congregation devotees.
Meanwhile according to guidelines, a new air-conditioner without joints in the electrical wiring has been installed in the altar room. There are no dresses kept near any air-conditioning system.
Most repairs were completed by July 31st. In addition, new 20,000 liter water tanks are now being constructed, out of which 10,000 liters will be for fire-related emergencies. The tanks are expected to take about a month to complete.
[ fire ] [ kolkata ] [ rebuilding ]