Balaram Nityananda Das, a gurukuli who has been organizing retreats for several years, is looking to establish his house in the UK's Lake District National Park as a "Bhakti Cottage" where people can stay and learn about Bhakti Yoga, Kirtan and conscious creativity amidst beautiful natural surroundings.
After attending Mayapur Gurukula for nine years, Balaram Nityananda moved to the UK, where he studied creative writing in university. He then served as head of outreach at Bhaktivedanta Manor, organizing retreats for three years. He also helped with a monthly Mantra Lounge program in the Lake District run by locals Ian and Andrea at an ashram house they had established.
After the pandemic put an end to Balaram's work with a new retreat company in March 2020, the couple invited him to move to the ashram house, where he resided in lockdown with seven other devotees and kept a regular morning program going.
With the UK now more open, Balaram decided to remain in the Lake District, and found a semi-detached cottage eight minutes from the beautiful Coniston Water lake, five minutes from the sea, and 4.5 hours from London.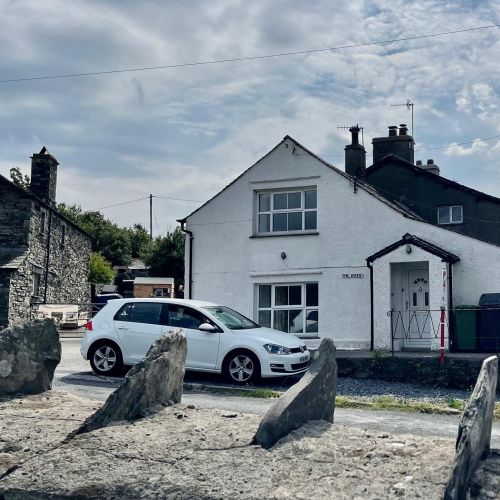 Balaram aims to kick in half of the £10,000 needed to make the 400-year-old house "hosting ready" himself, and to fundraise the rest with the help of the devotee community. Needs include repainting, repairs, beds and other furniture, firewood, pots and pans for cooking, and funds to turn the garden into a nice spot for prasadam or meditation.
When the cottage is ready, Balaram hopes to host two to four devotees at a time, including senior devotees looking to take a rejuvenating break from their services, youth looking to do outdoor activites, parents who would like to take a weekend break, and those wanting to go deeper into their kirtan practice. Future hopes include organizing larger Krishna conscious retreats with attendees staying in local lakeside hotels. Balaram also would like run the Cottage "like a little temple," with a morning program every day, and weekend kirtans.
In addition, Balaram, who previously ran the online course Kirtan Space and the YouTube talk show The Inspire Show, plans to launch a new company, Creative Sanga, to facilitate creative people who stay at the Bhakti Cottage. The program will nurture creativity in the mode of goodness through experiencing nature with walks, hikes and kayaking; journaling every morning; kirtan; developing friendships; and various courses and workshops on conscious creativity from the Bhakti Yoga perspective.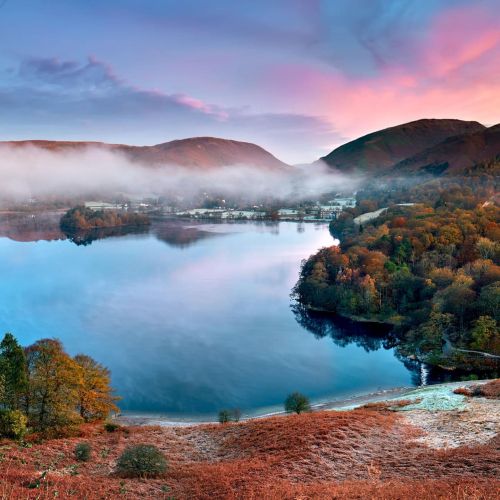 Balarama was inspired to launch Creative Sanga after reading Julia Cameron's book The Artist's Way: A Spiritual Path to Higher Creativity. He also felt that the Lake District was the perfect place to start such a project when he read that Lord Brahma, who creates the universe under Lord Krishna's supervision, is born from Lord Vishnu's navel, described as a lake in Srimad-Bhagavatam 3.9.24.
"I found it intriguing that Brahma is the Devata for creativity, and he's born from a lake; and the Lake District has inspired so many creative people," Balaram says. "For instance, the writer John Ruskin, the children's author Beatrix Potter, and the English poet William Wordsworth, who coined the phrase 'Simple living high thinking,' which Srila Prabhupada became very fond of while studying at Scottish Church College. So the idea for the Creative Sanga was was born from that."
Balaram is also inspired by Deva Madhava Dasa's work with the Harmony Collective in the USA, aiming for the Lakeland Bhakti Cottage to be "a judgement-free zone" that is "about the people, not the project."
Balarama hopes to host guests year-round, as the Lake District's picturesque nature is stunning in all seasons.
"We'd like to see Krishna consciousness flourish in the Lake District," he says. "Because it's a territory that hasn't been covered yet, in terms of our movement, and it's one of the most beautiful places in the UK."
To support the Lakeland Bhakti Cottage Fundraiser, visit:https://www.gofundme.com/f/my-lakeland-bhakti-home-fundraiser
To contact Balaram Nityananda, email: [email protected]
The Creative Sanga website will be launched on Radhastami Day, Sept 14th, here: creativesanga.com.
[ balaram nityananda das ] [ bhakti-center ] [ bhakti-yoga ] [ gurukuli ] [ uk ]