Following a global edition in April/May, the 18-hour Online Devotee Care Course, subtitled "Embedding Care in Krishna Conscious Communities," will be offered specifically for devotees in North American timezones starting September 18th.
The ISKCON GBC Devotee Care Committee, an initiative of the GBC Strategic Planning Team, was officially mandated in 2017 and supported by GBC resolutions in 2017 and 2019. Pre-Covid, the Committee's course on devotee care was offered in-person multiple times at various ISKCON centers around the world. Since the pandemic began, the course has been offered online instead.
Now, regional Devotee Care Coordinators for North America Nrismhananda Das and Vraja Raman Das are offering the course for up to 30 devotees from different "yatras" across the US and Canada, to inspire them to implement devotee care in their own local temples.
The course is suitable for leaders, caregivers, counselors, mentors, and any other devotees who would like to be involved in instituting devotee care within ISKCON and in their local, regional and national communities.
"Devotee care as a virtue is always there in ISKCON," Vraja Raman says. "But the main aim of putting together a committee and a course is to create a framework and structure around it in such a manner that it can be implemented in a very systematic way. This ensures that it doesn't get neglected, and becomes part of the institution. Just like each temple has a deity department, kitchen department and book distribution department, so we should also have a department of devotee care."
The North American edition of the Online Devotee Care Course will be offered across eight sessions and four weekends, starting on Saturday September 18th, and ending on Sunday October 10th. Each Saturday and Sunday, a two-and-a-half-hour session will be offered, beginning at 9:30am EST / 6:30am PST, for a total of 18 hours of learning.
Devotees must register at devoteecare.org, and will receive a personalized Zoom link for the course. Sessions will also be recorded and posted at devoteecare.org for participants, so that they can rewatch sections they missed at any time.
Teaching the course will be Global Director for Devotee Care and Govardhana Ecovillage Director Gauranga Das; and Harivallabha Das, who has been a devotee at ISKCON Chowpatty for the past thirty years, and works as an HR representative for a multinational company in India. The two also developed the course content.
"Gauranga Prabhu will lay out the principles and vision of devotee care and its importance from the scriptural standpoint, discussing topics like how Chaitanya Mahaprabhu reciprocated with His devotees," explains Vraja Raman Das. "Harivallabha Prabhu will talk about how to take those scriptural principles, and implement them practically in your yatra."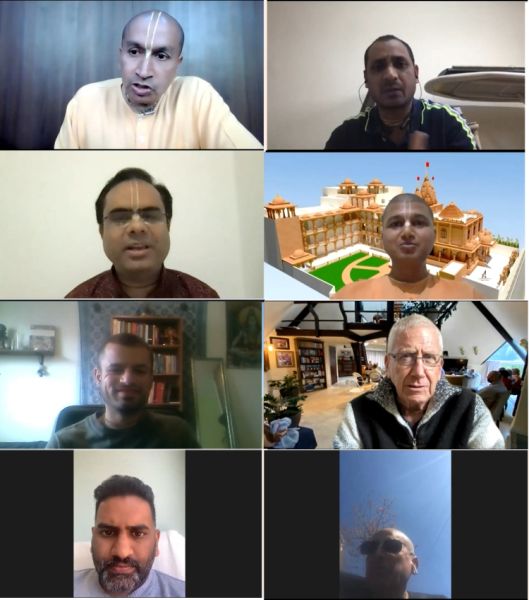 The teachers will start off by defining devotee care and its scriptural basis. "Sri Chaitanya Mahaprabhu and His associates used to place devotee care as the top priority," Vraja Raman says. "And in Mayapur, Srila Prabhupada built the Lotus building before he built the temple, because he wanted to make sure that when devotees came to Mayapur they had a comfortable place to stay."
The course will also teach the six principles underpinning devotee care: 1) Srila Prabhupada's teachings and example; 2) Vaishnava Seva; 3) Loving relationships; 4) Attentive listening; 5) Positive sense of belonging; and 6) Spirited leadership, as well as the values that go along with them: 1) Wisdom and realization/shastric insight; 2) Expertise; 3) Affection and love; 4) Empathy; 5) Gratitude and Generosity; and 6) Responsibility.
Next, the course will cover the twelve areas of Devotee Care: spiritual life; physical, mental and emotional healthcare; marriage and relationships; child-rearing and childcare; education; career and employment; finances; housing; travel and immigration; consumer and lifestyle; legal and civic; and mediation advice.
It will also discuss the twelve recipients of devotee care: women, brahmanas, cows, children and youth, the elderly, brahmachari and grihastha communities, vanaprasthas, sannyasis, other temple residents, leaders, and senior devotees.
Finally the course will discuss the four broad reasons for inadequate devotee care in a community; common pitfalls for caregivers; skills for caring administrators; core-skills for caregivers; the art of embedding a "culture of care" in a community; and strategic planning.
The Devotee Care Committee's mission is to ensure that the Vaishnava virtue of care pervades all aspects of the ISKCON Society; and to support and provide specific care-giving services that enhance the spiritual, emotional, physical and social well-being of all ISKCON members.
Its vision, meanwhile, is one where "Every devotee is spiritually happy and materially well-situated, positively identifying with ISKCON as a caring society."
The Online Devotee Care Course aims to reach that vision by inspiring devotees to make efforts in their areas, all the way from starting a small initiative to establishing a dedicated department in their temple.
"This course is comprehensive, illuminating, and practical," says Nrsimhananda Das, co-chair for devotee care in North America along with Vraja Raman. "I've been an aspiring devotee for 50+ years, and I learned so many wonderful new lessons while taking the online pilot course. I really never knew that caring for devotees is the essence and nectar of spiritual service. Devotee Care is far more than physical health. It reaches into every aspect of a person's consciousness. Personal relationships take on much more meaning and compassion. My life has become much more joyful after having imbibed the knowledge and mood of this extraordinary course. Even if you simply want better relationships and more loving exchanges in family and community, this is the course for you."
Register for the Online Devotee Care Course here: https://devoteecare.org/online  
Or email [email protected]
[ devotee-care ] [ online-education ]